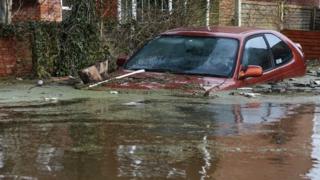 Getty Images
Eric Pickles, the man in charge of the government's flood defence, has said it 'made a mistake' by not dredging the flood-hit Somerset Levels.
Dredging is a process which removes silt from river channels so that water can flow through.
It hasn't happened in the area since the 1990's according to Prime Minister David Cameron.
Farmers had asked for dredging at least six months ago, but money wasn't given for it.
Mr Pickles has apologised to those who have been affected by the flooding.
Weather and flood warnings are still in place for much of the south-west UK.