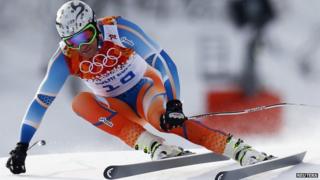 Reuters
With the first set of medals already won and Norway leading the medals board, the Winter Olympics are well underway.
Have you been watching the action in Sochi? What are you enjoying the most?
Which athletes are you routing for and why?
Or perhaps you're not a big fan at all and are avoiding all the sport that's on TV?
Get your fingers typing and send us your comments!
Thank you for sending us your comments. This chat page is now closed.
Your Comments
I love the winter Olympics my best sport is snowboarding
Bethany, Devon, England
I love watching the Winter Olympics, they're really cool. My favourite is slopestyle skiing.
Giles, England
Jenny was amazing. It was so exciting to see her win a bronze medal.
Katherine, Scotland
My favourite Winter Olympic sport is ice skating because the way they move and it's a great sport.
Laura, Torquay, England
I haven't watched that much of the Winter Olympics, but when I do I always hope that British athletes win. However I do prefer the Summer Olympics as there are more British athletes.
Zoe, Somerset, England
My favourite Winter Olympic sport is snowboarding because I love all the tricks.
Owen, Torquay, England
I love the skiing and the snowboarding - all the tricks and jumping - it's really cool.
Ella, Cardiff, Wales
I have been watching the Winter Olympics - after watching a couple of events I think that the Winter Olympics is great. However it isn't as good as the Summer Olympics but I think it definitely has the potential to become better than the Summer Olympics in the future!
Will, Sheffield, England
We love the snowboarding because they do loads of cool tricks and it looks really dangerous.
Holly and Scarlett, Maidenhead, England
I'm loving the Winter Olympics but most of all I'm LOVING the ice-skating. I especially loved the girl who is 15 and she is all bendy! SHE WAS AMAZING !!
Maisy, Staffordshire, England
You must ask your parent, teacher or guardian for permission before you send us a comment.
We may show your comment on this page or in our bulletins on the CBBC channel. We'll show your first name and which town you're from - but we won't use your details for anything else.