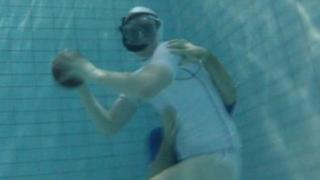 Check out underwater rugby!
The Six Nations rugby is well under way but if you fancy a kinder version of the game then check out this clip of underwater rugby...
Each team has six players, with an underwater goal at each end of a swimming pool.
The sport started in Germany about 50 years ago and it's growing in popularity.
It's taken off in the UK, with the first club having recently opened in London.
Watch the clip and see some players in action!
Watch more Newsround videos