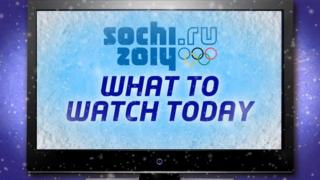 Here's Newsround's round-up of what to watch at the Winter Olympics today:
Medals up for grabs today: Alpine skiing (women's super combined), biathlon (men's pursuit), freestyle skiing (men's moguls), short track speed skating (men's 1500m), speed skating (men's 500m).
Brits in action: GB curling teams, Elise Christie, Charlotte Gilmartin and Jack Whelbourne (short track).
Highlights include:
Curling group games: Britain's men started their Olympic campaign early this morning but later you can see Britain's women's team face Sweden, the team they beat to win last year's world title.
Alpine skiing - women's super combined: Maria Hofl-Riesch - Germany's defending world and Olympic champion - is the one to watch here.
Short track - men's 1500m: Jack Whelbourne will be Britain's top male short track prospect at Sochi 2014.
Freestyle skiing - men's moguls: Canadian duo Mikael Kingsbury and Alex Bilodeau have been utterly dominant in moguls this season, so look out for them as well as American Patrick Deneen!
Also look out for: Ice hockey (women's group games) and luge (women's singles first and second run).