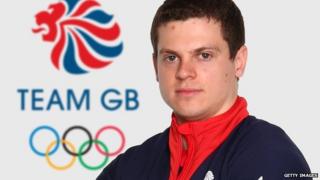 Getty Images
Craig Pickering, a member of the British bobsleigh team, has had to withdraw from the Winter Olympics due to a slipped disc in his back.
Craig ran at the 2008 Beijing Games in the 4x100m relay but missed London 2012 with a different back issue.
The ex-sprinter was due to compete in the two-man event on 16 February and the four-man event six days later.
The GB Bobsleigh coaching staff will decide who replaces Pickering within the next 24 hours.
"I am devastated," said Craig. "We worked so hard to qualify the 'GBR 2' sled for the Games and I am gutted that I won't be on the start line with Lamin [Deen], John [Baines] and Ben [Simpson].
He would have been only the eighth British athlete to compete for Team GB at both a summer and winter Olympics.