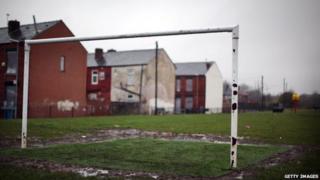 Getty Images
Local football pitches, that are owned by the council, are ''unfit for football', says the Football Association.
The FA says the future of the game is under threat unless there are more artificial football pitches.
The Local Government Association, that represents local councils, said they are struggling with funding cuts for more important services, and that the FA could invest in new pitches themselves.
Sport England says about 1.8 million people play football each week.
Waterlogged
The FA says council-run grass pitches are not only waterlogged after heavy rain but are worn down from being used so much.
About 80% of amateur football is played on these types of pitches.
Pete Ackerley from the FA says: "There has to be a move to sustainable artificial pitches. The average grass pitch can hold two to three games a week - artificial pitches can host up to 60 teams training and matches.
An LGA spokesman said: "The football industry is booming and by contrast local government is trying to protect vital services like caring for the elderly, fixing the roads and waste collection following a 40 percent cut in government funding."
They added: "Despite the Football Association stating that they want to invest in community facilities, it has scrapped the Community Clubs Development Fund. If the FA suggest that astroturf pitches should be available for local use then councils would gratefully accept assistance from the huge profits made from football each year."
Turned away
One club that says it has been affected by poor facilities is Rockleaze Rangers FC in Bristol, which claims a lack of good-quality facilities means local youngsters are being turned away.
An under-14 at the club said he was jealous of Spanish youngsters, who rarely play on grass, which he says allows them to "learn from a young age to play well".