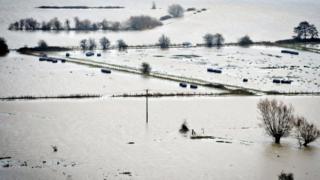 PA
People living in flood-hit areas in Somerset have criticised the agency responsible for dealing with flooding.
The man in charge of the Environment Agency is visiting the area for the first time since the floods began.
Local people say the Environment Agency hasn't done enough to protect their homes and farms.
Lord Smith, defended the agency: "I'm very proud of the work the Environment Agency and its staff have been doing right round the country".
Residents say he's taken to long too come to the area to see the problems for himself.
In the village of Moorland, families were stranded when they woke surrounded by miles of floodwater.
Royal Marines were called in the early hours to help hand out sandbags to try and stop it spreading further.
More rain has been forecast for the coming days and much of the county is difficult to access because of the flood water.