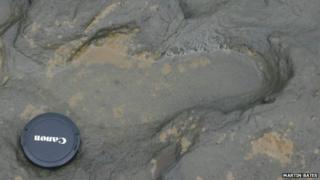 Martin Bates
The oldest footprints ever discovered outside of Africa have been found in Norfolk.
Thought to be 800,000 years old, the footprints were found on the beach in Happisburgh.
It's got scientists excited, because it's evidence of the earliest ever humans that lived in Europe.
To find footprints like this is so rare there's only been three three older discovered anywhere in the world - and they were in Africa.
So the team that first spotted them on the beach last May, are pretty happy.
Dr Nick Ashton of the British Museum said the find was, "one of the most important discoveries, if not the most important discovery that has been made on [Britain's] shores".
They were revealed during a low tide, and the team from the museum were able to video them and then analyse what they were.