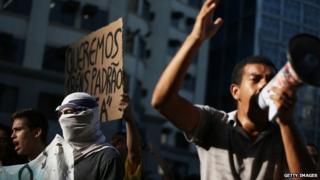 Getty Images
Hundreds of people in Brazil have clashed with police during a protest against increased fares for public transport.
Commuters were caught up in the unrest at Rio de Janeiro's Central Station during rush hour.
Riot police and protestors clashed, and many people were injured.
According to reports 20 people were arrested.
This comes after mass protests were held last year over plans to increase bus fares.
Those protests began at the end of May 2013 in Sao Paulo, when the local authorities announced ticket prices would rise.
The fare increases were removed after weeks of protests.
Last week, Rio's Mayor Eduardo Paes announced a 9% increase in transport fares.
Campaigners are critical of the country's spending on the World Cup while increasing some living costs for people who live in the country.
The World Cup will be held in June and July 2014.