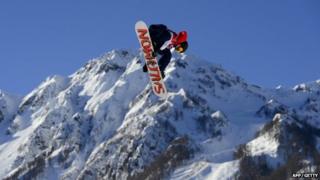 AFP/Getty
It's THE big day everyone's been waiting for, as the opening ceremony of the Sochi Winter Olympics finally sees the games begin.
It's the start of two weeks of action on snow and ice but we want to know what you're most looking forward to?
If you managed to see the slopestyle, are you excited about the finals to see Team GB's Jamie Nicholls wow the crowds again?
Or maybe you just can't wait for the skeleton, bobsleigh or even curling?
But with almost three thousand athletes fighting it out for 98 medals over the next fortnight - there's plenty of events to choose from.
Your Comments
We are so excited about the Winter Olympics! We can't wait to see the opening ceremony. We're particularly looking forward to snowboarding, skeleton boarding, skiing, bobsleigh and curling. We also wish the best of luck to Team GB!
Class, Pulham Primary, Pulham Market, England
I am really excited for all of the events and I cant wait for the opening ceremony, it's going to be epic!
Faduma, London
I am so looking forward to the skiing because I do it as well!!!
Liam, Chepstow, South Wales
I can't wait to see the Skeleton-boarding, Tobogganing and Bob-sleighing. It is so exciting - it's so quick and dramatic and the athletes are so brave!!
Anja, Anlaby, United Kingdom
What I am most looking forward to in The Winter Olympic Games 2014 is the bobsleigh because I want team GB to win.
Jessica, London, England