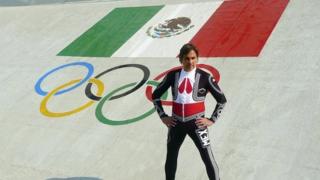 AP
The Winter Olympics brings together some of the finest athletes from around the world - and some unusual stories as well!
Because while the best of the best battle it out on snow and ice, so will those who are just happy to be taking part!
And this games has plenty of people competing that you might not expect to see.
From a Mexican prince to a man who's changed his name for money...
Vanessa Mae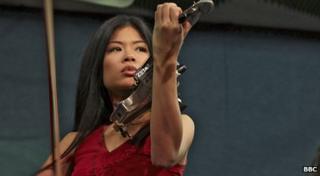 She's one of the best known violinists of all time, Is famous around the world for her musical talents and has sold millions of records in every corner of the globe.
As if that isn't enough, Vanessa Mae will be taking part in the Winter Olympics!!
You'll be able to see the violinist skiing down the slopes of Sochi representing Thailand. She managed the qualify at the last minute, and will be competing under the name Vanessa Vanakorn.
Bruno Banani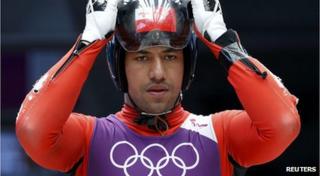 Reuters
Possibly the weirdest of the lot. Bruno Banani will be representing Tonga in the luge. Now that's weird enough as there's no snow in Tonga, but what's REALLY weird is that Bruno Banani isn't his real name.
In fact, it's the name of a company in Germany that makes underpants.
He was born with the name Fuahea Semi, and discovered by the company way back in 2008. Since then they have paid for all his training to make him good enough to compete at the Winter Olympics. In return, having changed his name, Bruno Banani is now a walking advert for underpants.
Prince Hubertus von Hohenlohe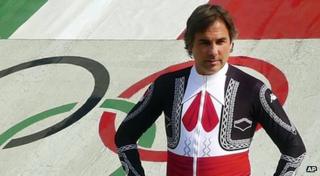 AP
The clue to the story here - is in the name. Prince Hubertus von Hohenlohe has been called "the most interesting Olympian in the world".
Born into the German royal family, the prince has lived in Mexico for most of his life. He'll be representing the country on the skiing slopes (he even set up the Mexican Ski Federation), and at the grand old age of 55, he's the second oldest Winter Olympian of all time!
And if that wasn't enough, the prince will even be skiing in a special fancy dress suit, in the style of one of Mexico's famous folk musicians!
The Di Silvestris
The Di Silvestris are a rich husband and wife who live in America. But they'll be skiing for the Caribbean island of Dominica in Sochi. So how does that work?
Well, the couple have done so much work for charity on the small island - Dominica offered them the chance to represent them!
It was a mad last minute race to qualify for the games, but they did and now they're Dominica's first ever Winter Olympians!