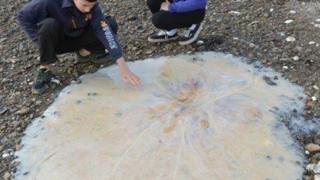 Getty Images
Scientists are getting excited about a huge new species of jellyfish that washed up on a beach in Australia.
It was discovered by a family last month and stretches 1.5m wide.
It's a type of lion's mane jellyfish, but scientists are trying to classify which species it is and give it a name.
In recent years there have been huge blooms of jellyfish in the waters near where this one was found, but no one knows why.
Dr Gershwin from Australia's national science agency said: "We're very keen to find out why jellyfish are blooming in such super-abundances in these southern waters," she said.