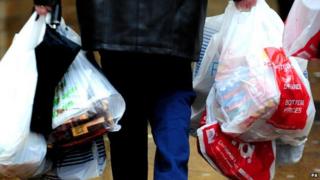 PA
A group of MPs say the government's plans for a 5p charge on plastic carrier bags in England are a "complete mess".
Last September, Deputy Prime Minister Nick Clegg announced the plans, highlighting the threat of plastic bags to marine life and the countryside.
But the MPs say the scheme is too complicated because there are so many different rules, for example only larger shops having the 5p charge and not smaller shops.
They say that the schemes in Ireland and Wales are a lot simpler and have made a big difference to the environment.
Over eight billion disposable carrier bags are used in England every year.