Primary schools in England are going to share an extra £150m per year sports funding until 2020, Prime Minister David Cameron has announced.
The direct funding scheme for school sport, which was announced last year, is going to be extended for a further five years, if Cameron's party wins the next elections.
The money will go straight to head teachers, who will decide how best to use it for sport to encourage more kids to play sport.
Mr Cameron said: "Sport is so important because it encourages children to be active, lead a healthy lifestyle, make friends and, of course, have fun."
We asked you to send in questions for the Prime Minister and he has been answering them with Martin.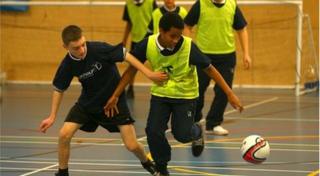 Clive Rose
The National Union of Teachers, who look after primary school teachers, said they welcomed the extra money, but because lots of primary schools don't have specialist PE teachers, the extra money doesn't add up to much.
And a spokesman from the Labour party criticised the government's record on school sport saying: "David Cameron has jeopardised our Olympic legacy by removing the requirement that primary children do two hours of sport per week."