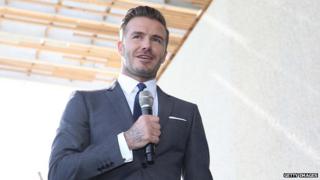 Getty Images
David Beckham has announced his plans for a new Major League Soccer club based in Miami.
"I want to make this my own team," he said. "We will bring great players in.
"The fortunate thing about my career is players are already interested in coming to Miami."
He also said a world-class stadium would be built to host the club.
The Miami club would be the 22nd team in the MLS league.
The MLS league currently has 19 teams in it, with two more set to join in 2015. No date has been set for when Becks' Miami team would enter the league.
Basketball superstar LeBron James said in November that he was in discussion with Beckham about investing in the planned Miami club.