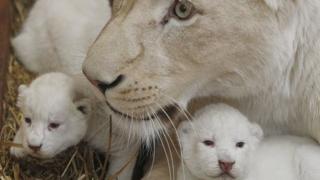 Rare white lion cubs born at Poland zoo
Three white lion cubs have been born at a zoo in Poland, in eastern Europe.
White lions are very rare - their zoo keeper thinks there's only around 90 of them in existence.
They are usually found in wildlife reserves in South Africa and a few zoos around the world.
Check out the clip and see the newborns settling in...
Watch more Newsround videos