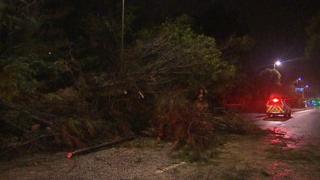 Thousands of homes are without power after strong winds and rain hit the south west of England and Wales overnight.
Gusts of up to 70mph and 20mm of rain spread across the area overnight.
About 14,000 homes in south-west England and 1,300 in Wales were hit by power cuts.
The weather has also caused problems for train services.
We want you to get in touch if you've been affected by the bad weather.
Send us your pictures
If you have any pictures or videos of how the bad weather has affected where you live you can send them to us by emailing newsroundpix@bbc.co.uk, but ONLY if it's SAFE to do so.
You might be chosen to feature on Newsround so please include your parents' phone number in your email so we can ask their permission.
PLEASE DO NOT PUT YOURSELF AT RISK and only take pictures or videos if it's safe to do so.
Have you missed school? Maybe your house, school or after school club has been closed as a result of the weather? Send us your comments using the form below.
Thank you for sending us your comments. This chat page is now closed
You must ask your parent, teacher or guardian for permission before you send us a comment.
We may show your comment on this page or in our bulletins on the CBBC channel. We'll show your first name and which town you're from - but we won't use your details for anything else.
Your Comments
Today when travelling to school my taxi took a long time due to trees on the roads which had fallen down because of the harsh winds. Also when travelling to school a wave came into contact with the vehicle I was travelling in and there was also a delay to my journey because of the bad weather.
Amelia, Devon, England
Our back garden fence fell - now we see everything our friends do. The tree down the road fell into the road.
Jasmine, Sutton, England
Today my Taxi was running late because of the bad weather. There was also a lot of traffic on the roads which delayed my journey. Also there were tree in the roads which had fallen down because of the winds. There was a large amount of water on the roads because of the waves being so big.
Michael, Exeter, England
My buses have been cancelled because of the bad weather so there is no chance I can get to school because the trees on the way to my school have been knocked over.
Erin, Cornwall, England
Outside our school trees have fallen down from the woods.
Victoria, Cornwall, England
My school bus has been cancelled. Trees have fallen down, roads are closed and places are flooded.
Issy, Falmouth, England
At school the wind knocked over a huge, entire tree and took out the railings but school was closed so nobody was hurt.
Jimmy, Hertfordshire, England