After Andrew Cotton surfed a wave that could measure in at 24 metres (78 ft), Newsround looks at the biggest waves ever surfed.
Garrett McNamara - 78ft (Nazaré, Portugal, November 2011)
Back in November 2011, American Surfer Garrett McNamara was taking part in a surfing competition in Portugal when a massive wave built up behind him.
He managed to stay on his surfboard despite the wave crashing into him, and six months later it was confirmed that the 24 metre wave was an official record.
Mike Parsons - 77ft (Cortes Bank, California, January 2008)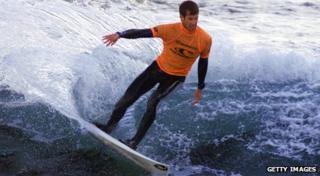 Getty Images
Parsons broke the record for biggest wave surfed in January, 2008, at Cortes Bank, America.
He was photographed surfing a wave that the Billabong XXL judged to be 77 ft, which put him in the Guinness Book of World Records, officially, for biggest wave ever surfed.
Pete Cabrinha - 70ft (Maui, January 2004)
On January 10, 2004, during the swell of the decade, Pete Cabrinha towed into and surfed a 70 ft wave at 'Jaws' in Hawaii on specially designed surfboard. Earning him the coveted Billabong XXL award and an entry into the Guinness Book of World Records for the largest wave ever ridden.
Shane Dorian - 65ft (Urrugne, France 2014)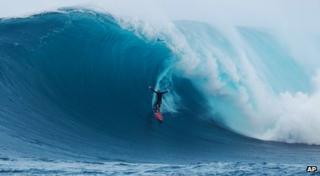 AP
Shane Dorian made a 20,000 mile round trip from Hawaii to France in order to chase some of the biggest waves that recent storms have brought to the shores of Europe.
The waves in France towered up to 20 metres and moved at 25mph and Shane rode the wave without the help of a jet-ski to pull him out.