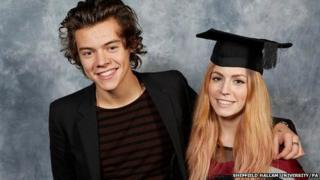 Sheffield Hallam University/PA
He may have the boyband voice and that dreamy trademark hair - but One Direction star Harry is not the brightest in the Styles family.
Harry's dad Des revealed on Twitter that Harry's sister Gemma is top of the roost.
He wrote: "Gemma is the clever one of us all."
The pop star's Dad said: "The boy might be famous but the girl is the brains of the family!"
Gemma graduated from Sheffield Hallam University in November 2013 with first class honours - the best possible result.
Harry himself described his sister as "annoyingly clever", adding "I'm so proud of you."