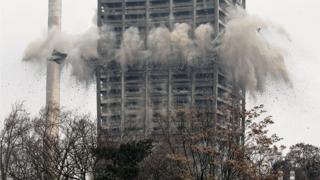 Amazing building demolitions
Around 30,000 people gathered in Frankfurt, Germany on Monday to watch a 116 metre tower be demolished.
It was one of the biggest operations of its kind in Europe.
In this video Newsround takes a look back at some most spectacular demolitions in history including tower blocks in Glasgow and Dundee, a car park in Newport, and a two mile long bridge in China.
And don't worry - no one was hurt in any of these clips!
Watch more Newsround videos