A series of sinkholes have opened up on the pitch of a Gaelic Football Club in County Monaghan, Ireland.
The sinkholes are thought to have been caused by the collapse of a mine beneath the ground.
Several pitches and the club house have been affected and the entire club has been closed.
But what is a sinkhole and where do they come from?
A sinkhole is a hole in the ground formed when the land collapses away leaving a big hole on the surface.
It happens when the rock underneath is dissolved by water.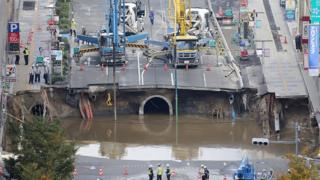 Getty Images
They can range in size enormously, as you can see from the videos above and below.
Sinkholes form when rainwater comes into contact with a certain type of soft rock - such as chalk or limestone - and dissolves it, leaving a gap deep in the ground.
The land on the surface then collapses into this gap.
The rainwater is able to dissolve soft rock like this, after seeping through the top layers of soil and having CO2 added to it, which makes it more acidic.
Areas on top of land with limestone or chalk foundations are more at risk of sinkholes.
They are pretty common in the American state of Florida because virtually the entire state is built on a limestone platform, but they are rare in the UK.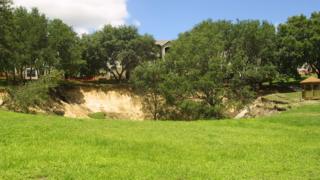 Getty Images
They can also occur in areas where there has been mining activity in the past and so the composition of the land deep underground has been affected.
Even though they are formed over quite a long period of time, it can be rather difficult to predict when they are going to happen.
Check out these videos showing sinkholes all around the world