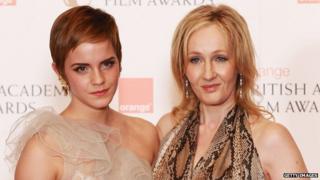 Getty Images
** SPOILER ALERT! DO NOT read this if you don't want to know how the Harry Potter books end**
Author J.K. Rowling has suggested that the Harry Potter books should've ended differently.
She thinks that perhaps Hermione Granger married the wrong guy at the end of the series.
The Harry Potter creator made the comments in a magazine that was being guest edited by Emma Watson. Emma played Hermione in the films.
Thank you for sending us your comments. This chat page is now closed
Your Comments:
I really like Harry Potter and it ended really well but it would have been nice if Harry married Hermione cause she's really pretty, clever and nice but mainly I think it ended really well!
Ariana, Barnet England
I think that Hermione should have married Harry because they were always closer to each other than Ron and Hermione were.
Riya, London, England
I think J.K Rowling had the right ending because Hermione and Ron liked each other so it made sense for them to be married.
Mary-Kate, Co.Antrium, Northern Ireland
I think Harry Potter ended in the right way. Ginny loves Harry from the start and Harry soon loves her. Ron and Hermione love each other from book 2-3 onwards. I am a big fan and appreciate the way the last book ended although it was sad to see all of the deaths of main characters.
Indie, Solihull, England
I think Hermione married the right person in the end because during the rest of the series there were hints that they loved each other and it wasn't a surprise to me when they actually got married
Alice, Stockton-On-Tees, England
I have read all the books and I think that Hermione is fine with Ron, because they have always liked each other and it is quite cute that they get married and have kids.
India, Ropley, England
I think that the books ended fine! It would've been WAY too predictable if Harry married Hermione!
Amrit, Derby, England
I think the Harry Potter books ended fine. Hermione married the right person because she could never have married Harry as their friendship was too strong. Hermione and Ron had their disagreements, but all couples do. I have sometimes wandered if Hermione should have married Harry, but then wandered who Ron could marry.
Jack, Templecombe, England
I think that she could not have ended it any better. Ron and Hermione are perfect together and most Harry Potter fans will agree.
Holly, Clane, Ireland
I think that J.K. Rowling got the right ending because Harry and Ginny are in love and Ron is in love with Hermione.
Luc, Storrington, England
I think that it's good that Ron and Hermione ended up getting married because it proves that the main male doesn't always have to marry to main female. And it's kind of funny when you think about how much Ron and Hermione squabbled at the start of the books. I like it better that way.
Eilidh, Glasgow, Scotland
No way, I loved the Harry potter series because we watch them every year at Christmas and it is AMAZING! I think that J.K.Rowling didn't get the ending wrong, because Ron and Hermione made a perfect couple.
Gabby, Worcestershire, England
I think Harry Potter ended greatly J.K Rowling made it perfect . She said Hermione should've married someone else but if she married Harry it would be like every other story were the hero gets the girl, but J.K. Rowling shouldn't change a thing.
Arya, Newmills, England
I think the ending of the Harry Potter books are great as they are, because in the first book/movie Ron and Hermione start off hating each other and then they fall in love, it's really cute.
Donna, Surrey, England
I think that Harry Potter should have ended how it did because Hermione and Ron were right for each other.
Maddy, Dorset, England
I disagree with J.K.Rowling. I like the fact Ron and Hermione are married.
Sienna, Cheltenham, England
I think Harry Potter should have ended with Ginny marrying Neville, then Harry should have married Hermione because it would have been a twist on the story line. This would have left the reader/watcher still questioning Harry Potter.
Amina, Bradford, England
I think that Harry should have married Hermione Granger instead of Ron. Ron could have married Luna Lovegood.
Tom, Alderbury, England
I think it shouldn't end but unfortunately it has. I wouldn't change anything as it all fits well with the stories.
Alisha, Surrey, England
I think Harry Potter should have ended by Harry becoming the most powerful wizard in the universe.
Marcela, Rotherham, England
Harry Potter should end so that Voldermort dies and NO SOPPY BITS!!!
Miri, Essex, England
I think Harry Potter ended perfectly ; I think it was good that Harry didn't marry Hermione!
Hannah, Luxembourg
I think that the ending for Harry Potter was right! It finished off the story in a nice, entertaining way that all fans will remember how good the series was!
Byron, Gillingham, Kent
I was quite happy with how Harry Potter ended but I think it should of ended with a cliff-hanger such as: and as harry watched the Hogwarts express roll away into the sunset he looked forward to a nice quiet life. Suddenly he realised he was truly happy as the world was good... for now. That would be a cool ending!
Katie, Newcastle-Upon-Tyne, England