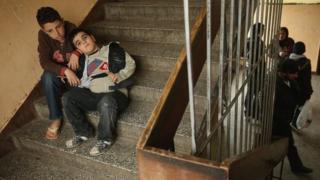 Syrian refugees living in a Bulgarian school
Refugees from Syria have fled to nearby countries like Turkey, Jordan and Lebanon, but some are now searching for a new life in Europe.
Since the beginning of last year 6,000 Syrians have walked across the border from Turkey to Bulgaria - the EU's poorest country.
Watch this report from the BBC's Chris Morris from a former school where refugees are now living in classrooms.
Watch more Newsround videos