Great Britain are into the Davis Cup quarter-finals after Andy Murray secured the winning point against the USA.
It was a big achievement as it's the first time they've got through to the last eight since 1986 - and the first time they have beaten the USA since 1935!
The Davis Cup is the top international team event in men's tennis and the GB team will now head to Italy in April for the quarter final.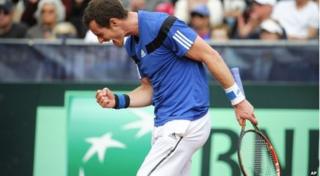 AP
To secure the spot Andy beat Sam Querrey 7-6 6-7 6-1 6-3 to give Britain a 3-1 lead in the best-of-five tie.
Pleased with the win, Andy said: "This is the first time I've been involved in Davis Cup that we've had a chance of winning the competition."