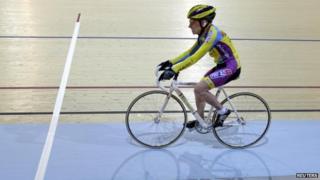 Reuters
There are definitely no excuses for not getting on your bike after you read about Robert Marchand.
He has just got himself another world record in a race for over 100-year-olds.
He's 102 years old and he peddled at a rate of nearly 17 miles an hour, beating the old world record, which was his anyway!
When he was 100 years old he hit the record books with a 100 km cycle round a velodrome in Lyon.
His latest feat took place at a velodrome in Saint-Quentin-en-Yvelines near Paris.
After completing the race, he hurried off round the track to meet and greet his supporters.