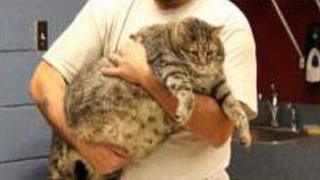 HOPD
A cat has moved into an animal rescue centre in America because he's so overweight he's struggling to walk and keeps injuring himself.
Meatball, who weighs 36 pounds, is now on a strict diet at the Maricopa County Animal Care and Control centre in Arizona.
But he is so big he has to stay in the office because he won't fit in a standard kennel.
The shelter says Meatball is extremely friendly.
The largest cat on record is a 46-pound cat from Queensland in Australia.