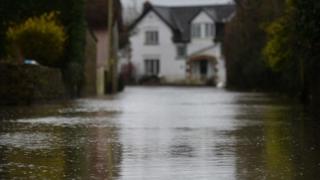 AFP/Getty Images
Parts of the UK are braced for even more severe weather after several weeks of downpours, floods and power outages.
Forecasters warn there will be more rain, high tides and strong winds today, and the Environment Agency has more than 150 flood warnings in place in several parts of England and Wales.
Nine of those warnings are classed as 'severe', which means a serious risk to people's safety.
The worst affected places are the south-west of England.
Villages and towns across the Somerset levels have been hit the worst by flooding, for several weeks now, and those areas are expected to get more rainfall too.
Watch: Emily and Gemma's story of living in the flooded village of Muchelney.
Tides are expected to get really high on parts of the Welsh coast, so authorities there have set up evacuation centres in places like Cardigan and Aberystwyth.
Get in touch with us if you've been affected by the weather.