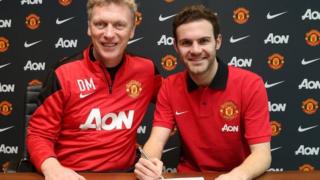 Football's transfer deadline day
Today is one of the most exciting days in the football calendar - Transfer Deadline Day.
Football clubs have until 11pm to try and secure the signings they need for the rest of the season.
The biggest deal so far this January has been Juan Mata's £37.1million move from Chelsea to Manchester United.
Arsenal and Manchester City are rumoured to be trying to make big signing s but David Moyes has said that his club's deals are done for now.
Watch more Newsround videos