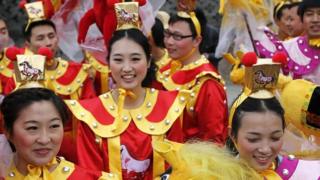 Reuters
Millions of people across the world are celebrating Chinese New Year today - the most important celebration in the Chinese calendar.
Chinese New Year traditions include hanging red lanterns and banners in your home, dancing in traditional costume and watching fireworks.
Chinese New Year isn't just celebrated in China - it's a popular celebration all over the world.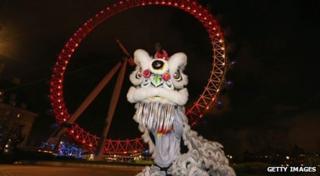 Getty Images
Your comments
We made Chinese lanterns for Art in school! It was really cool, we even put Chinese writing on them.
Ruth, Dundalk, Ireland
My school had a Chinese day where we dressed up in red and gold and we learnt Chinese dancing. I got to wear a Chinese dragon mask with a tail on it.
Suzy, Barsby, Leicestershire
Our school dressed up in red or in Chinese clothes and for lunch we had spring rolls, egg fried rice and sweet and sour chicken.
Charlotte, Croydon, England
I have an Auntie, Uncle and two cousins in China so I am going to visit them.
Jade, Shropshire, England
I am a horse in the Chinese zodiac and so are a lot of my family, that's why we are celebrating. We played mini games and let off a Chinese lantern, it was epic. Also my friends are coming round for traditional meals and dressing up in red and orange clothes.
Blaise, England
We ate Chinese food at school, and did Medieval China in history, and in Maths we did Chinese symbols! Tonight, we are having a feast- crispy duck, egg fried rice, spare ribs, noodles, and stir fry!
Emily, Sheffield, England
At school we celebrated Chinese New Year by having a chopstick race, getting red envelopes and having fortune cookies and sweets.
Maria, Birmingham, England
My cousin Tom is back home from China to celebrate the Chinese New year with us.
Cara, Preston, England
My family and I are celebrating Chinese New Year by having a big homemade Chinese meal of ribs, chicken wings and Fortune Cookies. :-)
Sophia, Bidford on Avon, England
We had a Chinese menu today at our school, where we ate traditional Chinese food with chopsticks!
Maryam, Coventry, England
I have made red envelopes for my Chinese neighbours. I get one off them too! They always invite us over for a delicious meal and everyone is happy and cheerful.
Sofiya, Bury, England
I didn't get to celebrate at all, however my sister went to a Chinese restaurant with school and had lunch there!
Monica, St Helens, England
My teacher is from China even though she speaks English. We did a play of how the rat got the first year named after him. Also we got Chinese sweets, a sticker with the year of the horse on it and we all greeted each other in Chinese in the morning. It was great fun!
Morgan, Cheltenham, England
I love Chinese New Year because there are plenty of things to be doing. My manna and granddad live in China so I go over sometimes for Chinese New Year and enjoy the fun.
Georgina, Manchester, England
Today we have been making Willow plates and we also made some origami cats. We dressed up in traditional Chinese clothes and we have learned some things about Chinese New Year. Did you know that Chinese New Year lasts for 15 days!?
Willow Class, Hoddesdon, England
We all dressed up in red clothes and traditional dress. We then had a huge celebration in our hall. We learned a Chinese dragon dance and tried lots of Chinese food. We really liked all the food especially the noodles, crackers and rice. We can't wait to celebrate again next year.
Class 1MJ, Wistaston Church Lane Primary School, Crewe, England
The Year 1 and 2 classes have celebrated by sampling Chinese food, making lanterns and beginning to make 3D animal masks. They have had lots of fun.
St Bega's Primary School, Hartlepool, England
I'm actually a horse in the Chinese zodiac so it's my year!
Olivia, Northern Ireland
I love celebrating Chinese New Year! It is a time where the family unites and spends time eating, drinking and having fun! I always love helping make the dumplings.
Jasmine, Birmingham, England