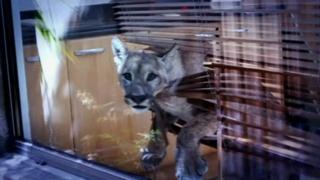 Puma causes havoc in kitchen
A family in Chile, South America had a shocking start to the day when they went for breakfast and found a puma in their kitchen.
This two-year-old big cat had managed to lock itself in their house and caused a bit of a mess.
Police think the animal may have been kept as a pet nearby, and had either been released or escaped.
The puma is now being looked after by zookeepers.
Watch more Newsround videos