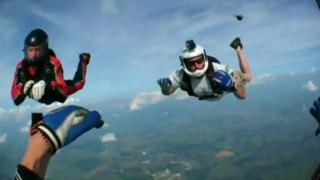 Unconscious skydiver rescued by friends
The moment a skydiver was knocked unconscious during a 3,800m jump has been caught on camera.
James Lee collided with another diver moments after they jumped from a plane above Wiltshire.
He was rescued by quick-thinking friends, who grabbed hold of him and deployed his parachute.
He came around just as the parachute opened and landed safely.
Watch more Newsround videos