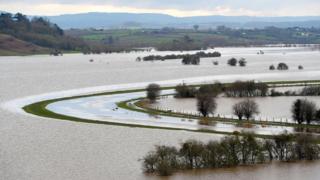 'We go to school by boat'
Parts of England have had their wettest January since records began more than 100 years ago.
Large areas of Somerset in South West England have been underwater for almost a month.
People's homes, shops and fields have been completely flooded after overflowing rivers burst their banks.
And the Met Office is warning of more rain, as well as snow and high winds, for much of the country in the coming days.
The military is on standby in Somerset in case they're needed to help out and bring supplies and sandbags to keep the water away.
In the village of Muchelney, it's so badly flooded the only way to get to school is by boat.
Two residents, Emily and Gemma, tell Newsround about the challenges they've faced since being cut off by the floods.
Watch more Newsround videos