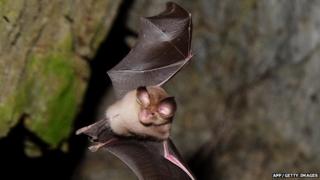 AFP/Getty Images
The number of bats in Europe has gone up by over 40 percent thanks to conservation efforts.
The largest ever study of its kind counted and analysed bats hibernating at 6,000 sites in nine European countries.
The European Environment Agency (EEA) found numbers had increased by 43 percent between 1993 and 2011.
European bat populations shrank, particularly during the second half of the 20th century.
The decline was blamed on intensive farming, disappearing bat habitats, and toxic chemicals used in treating roof timbers where they roost.
Species still under threat
Despite this good news, the study showed that bat species are still under threat.
They have a slow rate of reproduction so their numbers can decline very rapidly.
They are also extremely sensitive to environmental change. Differences in temperature, for instance, can affect their ability to forage, reproduce and hibernate.
EEA Executive Director, Hans Bruyninckx, said: "Many bat species are still endangered, so preserving their habitats is still an important priority."