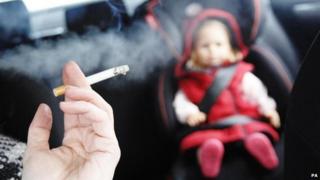 PA
A plan to ban smoking in cars carrying children in England has been backed by the House of Lords.
It was put forward by the Labour party, the government's opposition, who said it was about "protecting children".
Government ministers said they preferred to run awareness campaigns instead.
If a ban becomes law, then it'll be a crime for a driver if he/she doesn't stop any smoking when children are inside the vehicle.
WGuide: What is the House of Lords?
The ban plan will now go to a vote in the House of Commons.
Supporters are worried about the health effects of passive smoking, which is when cigarette smoke is breathed in by people close to the smoker.
Those against the ban think it should be up to individual people to decide what they do in their own cars.
It's already against the law to smoke in cars that are used for work, as well in workplaces and most enclosed public spaces such as cafes and restaurants.
This ban would only be for England. Any similar ban in Wales, Scotland or Northern Ireland would have to be decided by each nation's own devolved government.