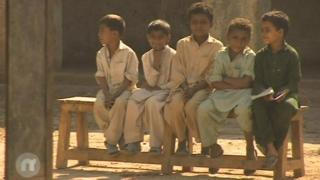 57 million children don't have a school
Millions of children in poorer countries can't read or do simple sums according to a United Nations report.
The report says this is because there are around 57 million children who don't have a school to go to.
The UN's Educational, Scientific and Cultural Organisation (Unesco) says in some areas it could take 70 years before there are enough primary school places for every child.
It's now calling on the world's governments to help change this.
BBC reporter Aleem Maqbool visited a school in Pakistan to find out more about the situation.