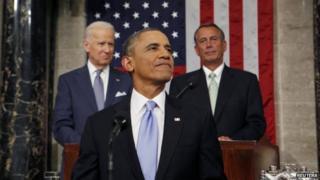 Reuters
US President Barack Obama has given his State of Union speech, setting out his priorities for the next 12 months.
In the address at Capitol Hill in Washington he told millions of Americans that inequality in the country has got worse, and that his main aim will be to change this.
He wants to tackle unequal pay between men and women, raise the minimum wage for some workers and he wants more families to have better chances in life.
Mr Obama said: "Let's make this a year of action,"
"…America does not stand still - and neither will I, so wherever and whenever I can take steps without legislation to expand opportunity for more American families, that's what I'm going to do."
Low ratings
It's hoped this speech will help improve the president's approval ratings which have been at their lowest since he got the top job five years ago. Obama was re-elected after his first term in power last year, and the next US election will be in 2016.
Guide: US elections and mid-terms
Opponents
The president's opponents say his plans could lead to fewer jobs and that he needed to focus on lowering taxes.
The Republican Party, called on Mr Obama to take action "by empowering people, not making their lives harder with unprecedented spending, higher taxes, and fewer jobs."
Republican Kentucky Senator Rand Paul said: "Economic growth will come when we lower taxes for everyone," he said. "Government spending doesn't work."