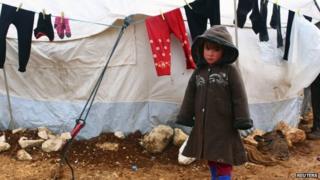 Reuters
Some of the "most vulnerable" Syrian refugees will be allowed to temporarily stay in the UK, Deputy Prime Minister Nick Clegg says.
He said the most at-risk people, including those who are elderly and disabled, would get priority.
The government cannot say exactly how many Syrians will come to the UK but it expects the number of refugees accepted to be in the hundreds.
Other countries have signed up to the United Nations High Commissioner for Refugees (UNHCR) scheme, but the UK has drawn up its own plan. Germany has agreed to welcome 10,000 Syrian refugees as part of the UNHCR plan.
The UN says this is the single biggest refugee crisis of all time.
'Open-hearted'
Mr Clegg said: "…as the conflict continues to force millions of Syrians from their homes, we need to make sure we are doing everything we can.
"We are one of the most open-hearted countries in the world and I believe we have a moral responsibility to help.
He added: "Sadly we cannot provide safety for everyone who needs it, but we can reach out to some of those who need it most.
"On top of that, we'll continue to support the peace talks currently taking place in Geneva, because only a political resolution between the Assad regime and Syrian opposition will provide a permanent end to the suffering."
Return to Syria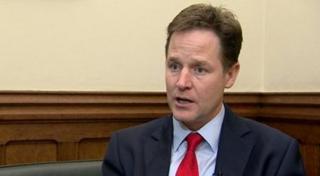 Mr Clegg said: "They will be here for a certain period of time and what we of course want and I suspect they will want as well… is to return eventually to Syria, when as I think everybody hopes normality finally is restored to the country."
'Long overdue'
The UK government has been criticised for not offering this kind of support earlier.
Amnesty International UK director Kate Allen said: "This move is long overdue but of course it's never too late to do the right thing.
"The government's line on this has been shameful, with months of refusal and weak arguments."
The UNHCR said it would help the UK to identify the most vulnerable people to help.
Guide: What is happening in Syria?