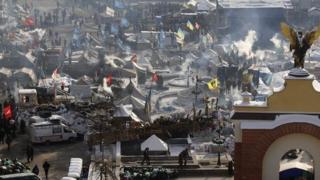 Ukraine votes to scrap anti-protest law
The Ukraine parliament has voted to scrap a controversial anti-protest law.
It was brought in two weeks ago to try and stop anti-government demonstrations but the introduction of the law angered protestors.
Under the law, protestors were banned from wearing helmets and blockading public buildings.
Ukraine's Prime Minister, Mykola Azarov, has also offered to resign, alongside his cabinet members, in order to satisfy protestors.