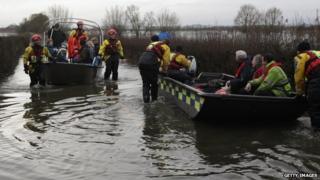 Getty Images
Parts of the UK are expected to get hit by more severe weather after several weeks of floods and power outages.
The Environment Agency currently has nine severe flood warnings in place in the south-west of England - this means there's a risk to life.
Parts of some towns and villages there are still badly flooded following major storms at the start of January.
There are also warnings in place for other areas like Aberystwyth in Wales, north-west England and coastal areas in Yorkshire.
But there are some areas in the UK that are ok; if you're leaving in northern Scotland you've probably escaped the bad weather.
We want you to get in touch if you've been affected by the severe weather.
Send us your pictures
If you have any pictures or videos of how the floods have affected where you live you can send them to us by emailing newsroundpix@bbc.co.uk, but ONLY if it's SAFE to do so.
You might be chosen to feature on Newsround so please include your parents' phone number in your email so we can ask their permission.
PLEASE DO NOT PUT YOURSELF AT RISK and only take pictures or videos if it's safe to do so.
You must ask your parent, teacher or guardian for permission before you send us a comment.
We may show your comment on this page or in our bulletins on the CBBC channel. We'll show your first name and which town you're from - but we won't use your details for anything else.
Your comments
I live near the Somerset levels and it's flooded waist high so now I can't ride my bike safely.
Gina, Somerset, England
I wasn't affected by the flood but our playground was flooded yesterday, it was like the sea.
Rosanna, Staffordshire, England
The floods have been really bad where I live and has flooded into many people's homes making ours the home for most of our neighbours.
Megan, Wallingford, Oxfordshire
My school is on a hill, and as it rained all day the school drive was a river.
Alice, Derbyshire, England
We have had some horrific rainfalls, flooding our fields and lawn. But today we have snow and ice.
Katie, Northern Ireland
No, I have not been affected by flooding but I've heard it's really bad in places like Somerset so I'm really worried for them!
Edie, London, England
Yes. The outside of my house was flooded in every direction. We had to wear wellies to get out of the house!
Anna, Marlow, England
Our greenhouse was knocked down from the patio onto the garden!
Lizzie, Sussex, England
Have you missed school? Maybe your house, school or after school club has been closed as a result of the weather? Get in touch using the form below.