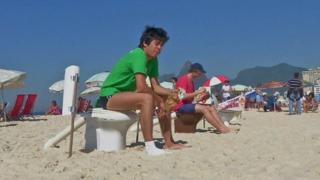 Brazilians' toilet protest on beach
Protesters have been sitting on toilets on a beach in Rio de Janeiro - to show their anger over poor sanitation in the Brazilian city.
They're unhappy about the sewage that's allowed to flow into sea water.
Some people also marked out shapes of bacteria on the sand to highlight the issue on Ipanema beach, one of Rio's most famous beaches.
Ipanema is set to host some events for the 2016 Olympic and Paralympics in Rio.
Officials say the waterways will be clean in time for the Games.
Watch more Newsround videos