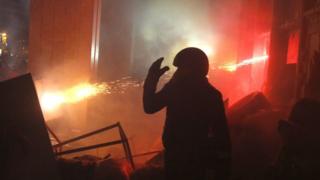 Another night of violence in Ukraine capital
There were more violent clashes on the streets of Kiev in Ukraine last night.
Firebombs were thrown and protestors stormed into a cultural building.
Ukraine has been divided in recent times over whether it should have closer ties with Russia, or the European Union.
To end the unrest the country's President Viktor Yanukovych offered to share power with his opposition.
But the opposition leader Arseniy Yatsenyuk turned the offer down. He wants there to be an early election.
Mr Yatsenyuk told the President: "The people decide our leaders, not you."
Watch more Newsround videos