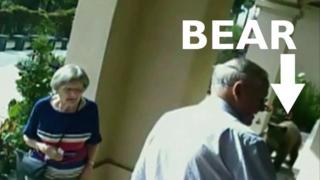 Holiday couple fail to spot bear on porch
Can you to bear to watch this this clip? A Scottish couple had a very close encounter with a bear on holiday in America - and almost didn't notice!
They were pottering around outside their house in California and didn't spot the cheeky bear that had snuck up behind them.
Bob and Irene McKeown admitted they were embarrassed they'd didn't spot it.
Watch more Newsround videos