Fossil hunters are being warned of falling rocks and mudslides on the Jurassic Coast in south-west England.
The recent stormy weather has uncovered some exciting buried treasures, but it's also made the coast in Dorset unstable - and possibly dangerous.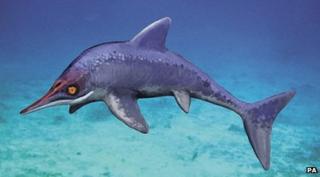 PA
It's thought more fossil hunters have been coming to the area after the skeleton of an ichthyosaur - an ancient "fish lizard" - was found in December.
The National Trust said that people should not to ignore warning signs.
Top tips on how to find a fossil
A large rockfall took place at Burton Bradstock on 16 January.
The rocks in Dorset are around 200 million years old.