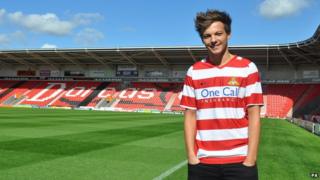 PA
Forget Teenage Kicks, it's Tomlinson Kicks! One Direction's Louis is set to make his debut for footy club Doncaster Rovers' reserve side next month.
The pop star signed up to the Championship side in August, but he's not tied to a contract.
"We are very much looking forward to Louis making his Rovers debut and I know that he can't wait either," said Rovers chief executive Gavin Baldwin.
Louis has supported Doncaster Rovers all his life.
An injury during a charity match in September meant he had to pull out of an earlier planned appearance for the Rovers.
He's never played higher than the Sunday League before.