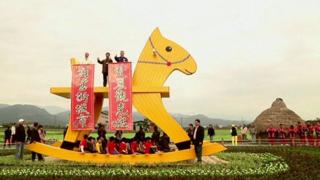 Giant rocking horse in Taiwan
This giant rocking horse has been built in Taiwan to help celebrate Chinese New Year.
The massive yellow statue is more than six metres high and around 10 times the size of an ordinary rocking horse!
The Chinese zodiac follows a 12-year cycle. Each of the years is named after an animal and this is the year of the horse.
"The reason we decided to make the rocking horse is that it's something everyone has played with in their childhood," said head of Sanxing township, Huang Yang-yong.
Chinese New Year is the most important holiday in Taiwan and many are decorating their homes with horse-shaped ornaments and red banners.
People also celebrate by lighting firecrackers and giving money in red paper envelopes.
This year Chinese New Year falls on 31 January. Officials hope the horse will bring good fortune, prosperity and many smiles to the town.
Watch more Newsround videos