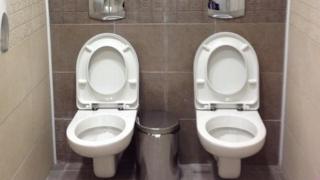 A photograph of a "twin toilet" in Russia's Olympic park has amused and confused people online.
The unusual lav was spotted in Sochi's Biathlon Centre which was built nearly two years ago.
BBC reporter Steve Rosenberg who took the snap said: "Communal toilets like this are not common in Russia."
He told Newsround: "There's only one toilet roll holder on the wall - you'd expect two if they were planning to create two separate booths."
Some people have suggested that the toilets are simply unfinished - or that somebody has pinched the dividing wall.
Others have joked that the toilets are designed to bring people closer for a "friendlier Olympics"!
"It's one of the many mysteries of Russia," added Steve.