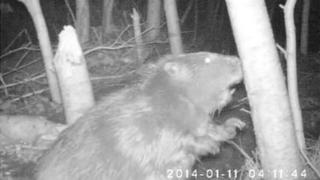 Rare wild beaver caught on hidden camera
A rare wild beaver has been caught on camera at a farm in Devon.
Farmer David Lawrence wanted to find out what was biting the trees on his land so he had a night-vision camera installed.
He discovered the culprit was a wild beaver!
It's surprising because wild beavers are extremely rare in England after they were hunted to extinction during the 12th Century.
[Pictures: Tom Buckley]
Watch more Newsround videos