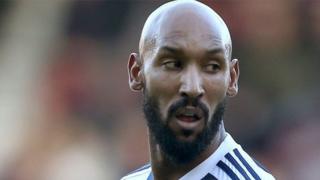 Anelka charged by FA for gesture
West Bromwich Albion striker Nicolas Anelka is facing a minimum five-match ban after being charged by the FA today.
He's in trouble with them over a gesture he made on the pitch last month after scoring against West Ham.
The gesture he made is considered highly offensive by some Jewish people.
But Anelka tweeted: "I am neither racist nor anti-Semitic."
On Tuesday the company Zoopla announced it was pulling out as a sponsor of West Brom at the end of the season, because of what Anelka did.