West Bromwich Albion striker Nicolas Anelka is facing a minimum five-match ban after being charged by the FA today.
He's in trouble with them over a gesture he made on the pitch last month after scoring against West Ham.
The gesture he made is considered highly offensive by some Jewish people.
But Anelka tweeted: "I am neither racist nor anti-Semitic."
On Tuesday the company Zoopla announced it was pulling out as a sponsor of West Brom at the end of the season, because of what Anelka did.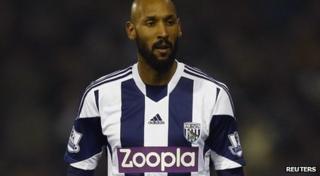 Reuters
Anelka played against Everton last night and his new head coach seemed to be behind him.
Pepe Mel said: "For me Anelka is a very good professional. Very good person, and for me I need Nicolas in the team."
Anelka has promised he won't do the gesture again. He now has until 6pm on Thursday to respond to the FA's charge.