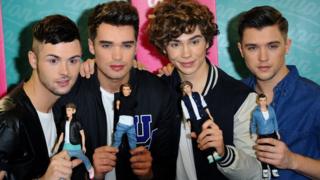 Getty Images
Union J have followed in the footsteps of One Direction and launched a set of lookalike dolls.
George, Josh, JJ and Jaymi have been transformed into 30cm tall plastic figures complete with outfits designed by the boys.
The X Factor foursome say it's "weird" and "flattering" having their own range of mini pop stars.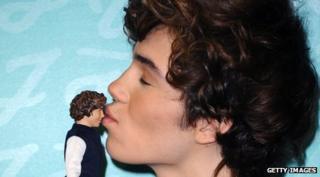 Getty Images
The group unveiled the dolls at the at the UK Toy Fair and wore matching outfits for the big reveal.
Justin Bieber, One Direction and Little Mix are just some of the other stars to launch their own dolls.
The One Direction figures were the best selling fashion doll of 2013, with 270,000 sold in the UK.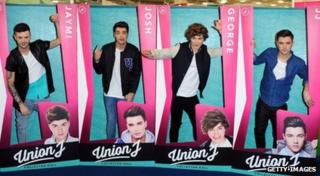 Getty Images
They had their faces scanned using a 3D laser to make sure that the figures look as realistic as possible.
Jaymi told Newsround: "They look identical to us, it's crazy but really cool."
He added: "I think I will sell the most dolls because my mum will buy them all!"